The building of Westcliffe Road Christian Church has a surprisingly long history dating back over 150 years to 1868. Here are a few interesting snapshots from that history.
Shipley Town Mission Institute
1868 – A wooden church building with a slate roof is erected by Non-conformist Christians (including Baptists and Methodists) and opened on 5th April. They name it the Town Mission Institute.
Fun Fact – Forty seats were donated to the church by local philanthropist Sir Titus Salt.
Westcliffe Chapel Foundation Stone Laid
29.03.1875 – Local masons, plasterers and other craftsmen are employed to build a more permanent church building on the new site of West Cliff Road (as it was then called) and the cornerstone is laid with ceremony on Easter Monday. The rest of the work was finished by December of the same year.
Fun Fact – The original wooden church became a site for trains as the land was bought by the Midland Railway company.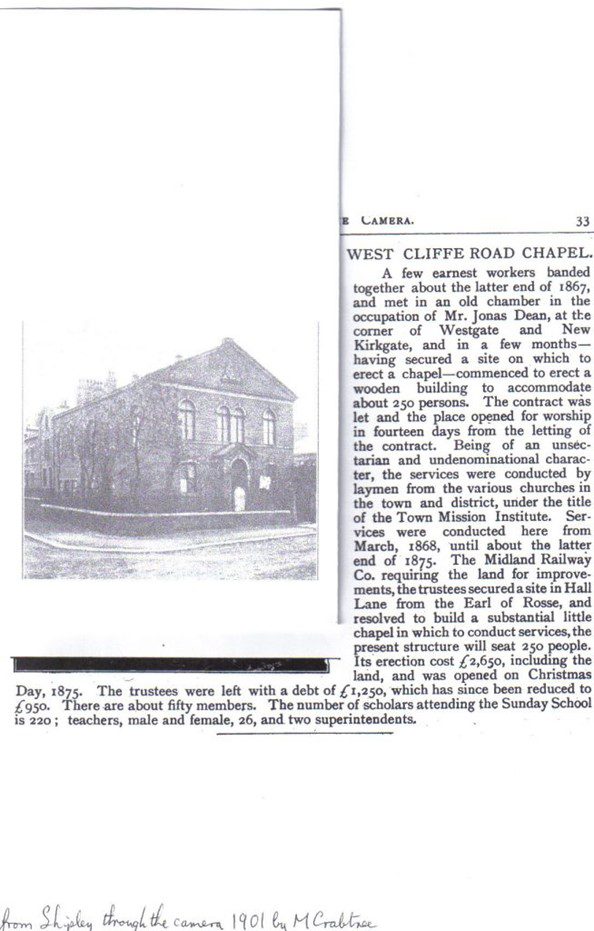 Deeds Drawn Up
09.05.1877 – The official deeds of the building are written with stipulations on the building's purpose of use to always be linked to Protestant Christian worship. They are signed by sixteen founders, all but one from the local area of Shipley.
Fun Fact – The Deeds include the instruction that the building should never be sold to be used as a "place of vain amusement, e.g. singing saloon, theatre, public house or brewery."
Church Orchestra & Light Entertainment
1920s – Some congregation members formed an orchestra and a light entertainment group (called the Comedy 8) which performed at other churches in the area. At this time there was no minister or pastor but speakers came from different churches and chapels in the district.
Fun Fact – Allegedly, the Comedy 8's top performances included 'Paddy McGinty's Goat' and 'If you were the only girl in the world'.
War Years at Westcliffe Chapel
1939-1945 – During the war, the downstairs Sunday School room was used as a barracks and as a postal sorting office as part of the local War effort.
Fun Fact – The congregation was swelled after a large number of people from another church joined them, known as the 'Rosse Street Rebels'.
Brethren Congregation
1961 – After the pastor left in 1959, Westcliffe Chapel's congregation numbers dwindled until members of Salem Chapel, a Brethren Church, joined them. Services were shared until the Brethren denomination were formally given the building's deeds.
Fun Fact – Due to Shipley council's changing plans over demolished local terraces, for a brief time Westcliffe Chapel stood alone surrounded by park land.
Listed Building
22.04.1982 – Westcliffe Road Chapel, as it was then called, became a Grade II listed building, protecting it from demolition and preserving several of its one-hundred-year-old features.
Fun Fact – In the late 1960s, the chapel was almost torn down and replaced by a more modern church building. Fortunately for historical architecture fans, internal renovations were done instead.
Information regarding Westcliffe's listed building status is available at:
– http://www.britishlistedbuildings.co.uk/en-337564-westcliffe-road-methodist-chapel-shipley.
– https://historicengland.org.uk/listing/the-list/list-entry/1133529
New Name & Registered Charity
2014 – Westcliffe Road Christian Church becomes a registered UK charity and starts plans to repair and modernise parts of the building.
Fun Fact – Westcliffe's leadership today and throughout most of its history is made up of a group of Elders. There have only been full-time pastors for twenty-six years of the church's over one hundred and fifty year history.
Looking for more History?
If you'd like an even more detailed version of the building history of Westcliffe Road Christian Church, you can find extensive research and accounts from past congregation members in the below PDF:
You can also access an extract from a booklet produced to celebrate the Centenary of the church building here.